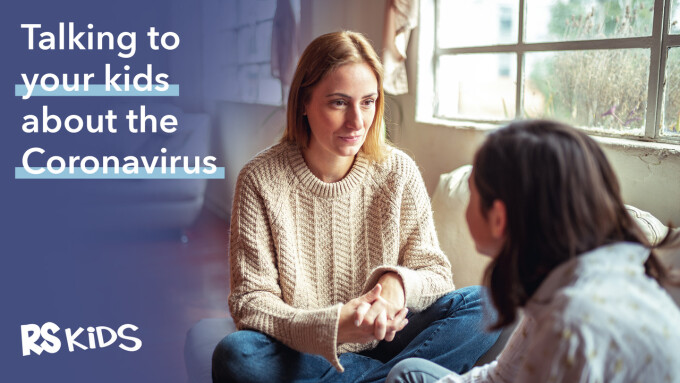 Many small children don't understand the gravity of what's happening. And with the COVID-19 outbreak being such a large disruption in day-to-day life, it can leave kids feeling uneasy and stressed.
All of us yearn for stability and while these are incredibly unstable times, it's important to create a sense of safety. Many parents have found themselves juggling working from home in addition to being a teacher, entertainer, and parent. It can be a demanding time when you're doing all this and coping with adolescent emotions as well.
That's why it's important to explain what COVID-19 is, how it affects them, and how they can be safe.
Keep your nerves in check
There's no sense in having a discussion with your kids if you're anxious about the virus. Try to process your own fears before diving into a conversation with your children. They will model your mindset and it's important you present information about the coronavirus in a calm, rational manner.
Talk at age-appropriate levels
Your teenager is likely to have just as much or more information than you do about COVID-19. You'll have a very different conversation with them than you will with your six year old. For younger age groups, it's important to keep it light and help them understand the virus in more low-level, general terms.
Try to understand your child's fears
As adults, it's important that we listen to our children's fears and anxieties. A young person may misunderstand certain aspects about the virus or not comprehend the important steps they can take to stay safe. You can calmly listen to their concerns and go over the CDC's recommendations for keeping healthy together. Most important, remember that you're their resource for information and truth.
Focus on Safety
Many children don't understand the importance of washing their hands or practicing good hygiene. Now is the best time to instill proper sanitation practices like avoiding close contact, covering coughs and sneezes, and disinfecting frequently touched/used surfaces and items.
You can review the CDC's complete guide for preventing the spread of COVID-19 here.
While we all know washing our hands is the first line of defense in killing germs, we should also focus on mental health. During this time, many families are spending a drastically increased amount of time inside their homes. While this is great for family bonding, new issues may arise including high stress, emotional instability, and developing bad habits out of boredom.
To try to prevent this from occurring, you can do daily or weekly check-ins to ensure your family is moving forward together.
Emphasise Prayer
Times of unrest are the perfect time to pray. It's important to remind your kids that God is always with us, no matter what's happening in the world around us.
Now is a great time to establish daily prayer and remind your family that God is our ultimate source of peace and security.
---
If you're looking for fun activities to do with you family, check out '10 Family Activities to Shake Cabin Fever'