10 Activities to Shake Cabin Fever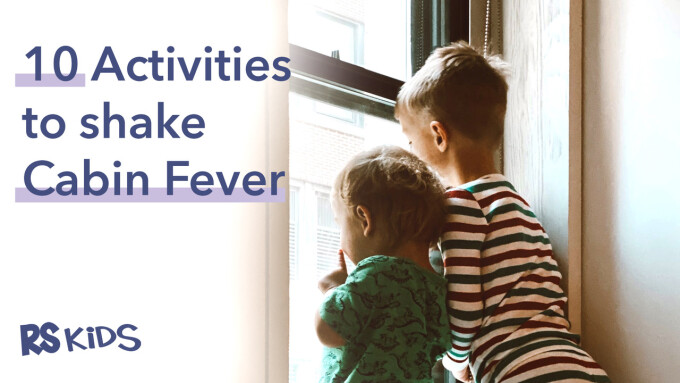 Being home-bound can be stressful, not to mention boring. If you have children and adults who are together more than normal, now is the time to pause and spend time doing fun, entertaining activities that help alleviate worry and bring families closer together.
Here are 10 easy ways to stay entertained while keeping your family safe.
1.) Cook a homemade meal!
If you have enough ingredients to create a delicious, homemade meal, now is a great time to involve your kids in a culinary adventure! Have them mix, stir, and measure to feel a part of the process and learn more about the science of cooking. Who knows, you may have the next Rachel Ray or Bobby Flay in your house!
2.) Have a dance party!
The CDC recommends physical activity even in the midst of a health emergency. Cranking up the tunes and having your own dance party is an easy way to get your blood pumping and increase endorphins. The best part is, all you need are some upbeat songs and an open space to get your groove on.
3.) Board game night
Playing an intense round of Monopoly can relieve pent-up stress and get our brains back in fighting shape. Whether your family prefers cards, Scrabble, or Jenga, bringing people to a shared space creates a sense of community in a time of isolation.
4.) Living Room Olympics
You don't have to wait until summer to enjoy the worlds' most entertaining sports show, you can put on your own olympics right in your own home. You can hold the paper airplane race, straw javelin throw, or an olympic ring toss!
Divide your family into teams and compete for fun prizes, like homemade medals or the last bite of dessert.
5.) Arts and Crafts
If you have young kids, painting and coloring can be a great way to keep them entertained. Throw newspapers or a tarp over your kitchen table and have them go to town while creating their own masterpieces.
When they're finished, find a frame and have your kids help you locate a spot to display their new artwork. This can be a fun memory to have once things return to normal.
6.) Movie Night
If you regularly go to the movie theater, now is no time to depart from seeing your favorite films! Pop popcorn, let your family indulge in theater treats, and create a movie theater atmosphere to turn your living room into a grade A cinema!
7.) Get connected!
If you live far away from your extended family or friends, reaching out to loved ones can be a way to feel more connected. Don't feel confined to calls or texts either. Writing letters is a great way to make someone smile and gives them a memory they will cherish for a lifetime.
8.) Give a little
Many people are struggling during this time but you can teach your kids a great lesson on generosity and bless others in the process by sending some digital love. Online gift cards, household items, and other necessities can truly help others while supplies are running low. Have your kids help you pick out a few neighbors and friends and send them a gift card to a favorite grocery store or have products delivered to their home.
9.) Family bible study
It's so important in stressful times to come together as a family and study the Word. While many churches are strictly online for the time being, you can still have home church right there in your living room. God is our ever-present friend in time of need and our comfort in uneasy times and it's imperative that we continue to grow in our faith during all seasons.
You can worship with us at rockspringsonline.com every Sunday at 8, 9:30, and 11 AM. We look forward to having you join us online!
10.) Make learning come alive
If you're finding that you've taken on the title of "teacher", there's a simple way to keep your kids engaged with their current lessons and add fun to learning. If your kids are reading through a play or novel, volunteer to act out the book by assigning characters to everyone and reading aloud. If they're focused on math or science, use large colorful paper to solve equations or do a small scale lab project in your kitchen or backyard.
These are just 10 easy ways to keep your family engaged and connected while we wait out the next few weeks. And why stop at these, have your kids think of fun activities or create a new family tradition to carry on for years to come.
Keep following RS Kids for fun activities and ways to keep your kids encouraged!