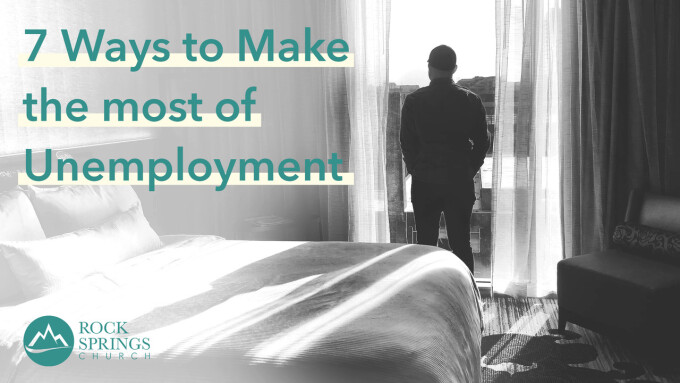 7 Ways to Make the Most of Unemployment
It's no secret that the unemployment rate rises every day. In the past five weeks, 26.5 million people have filed jobless claims and applied for benefits.
If you're one of those millions, life can feel uncertain and stressful.
As Christians, we know God wants us to work - it's biblical to commit to a vocation and provide for your family.
But what about when you lose or can't find employment? Here are seven ways to make the most of unemployment….
1.) Get Creative
If you're struggling to find full-time employment, now's the time to explore creative and alternative ways of making money. Your skills can be used for short-term projects and jobs or work as an independent contractor. You can even deliver pizzas at night to earn extra money to tide you over. This is the time to think outside the box.
2.) Structure your day
Searching for work can be a full-time job in itself. However you choose to spend this time, make sure you have a schedule and a structure to your day. Set an alarm, wear real clothes, and schedule start times, breaks, and a time to 'clock-out' even if you're at home.
3.) Get outside
It's easy to plop down on the couch and click "next episode" on Netflix for hours on end when you're not working typical hours. However, getting outside for even 15 minutes can boost your mood and improve your productivity. Try setting a timer to get up and move around every hour and get that vitamin D.
4.) Have patience
In any job market, it's important to have patience and trust the process. If you're set on a certain job, you may have to wait until an opening comes up. If you're open to any type of employment, it can strictly be a numbers game and that's when quantity is the top priority. In the meantime, spruce up your resume or spend extra time perfecting your cover letter.
5.) Explore new possibilities
If you're having difficulty finding employment in a certain area, perhaps it's time to expand your horizons. Some of the most fulfilling jobs can also be the most unexpected.
6.) Tell people you are job searching
Now is not the time to hold onto your pride. Life is about relationships and the job hunt is no different. Most jobs are actually found through your connections or word of mouth. Let people know you're searching for work and tell them what type of job you're looking for. You'll find most people are happy to help.
6a.) Take people out to coffee. Not only should you be telling people that you're looking but you should also be using your flexible schedule to meet with people in your field or who are doing what you want to do. Once you're back in a full-time job, you may not have the freedom for long lunch breaks or a mid day coffee conversation.
7.) Continue working on your skills
Whatever your specialty, you can use this time to improve your skills or volunteer to do work for a non-profit or your church. By being a value-add, you're opening yourself up to more opportunities and even a potential job.