Creative Ways to Help Your Neighbor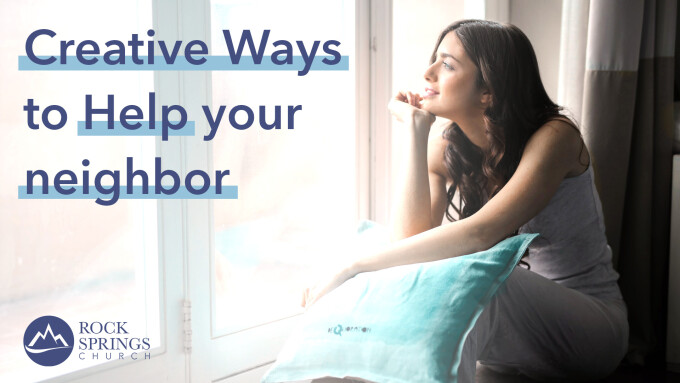 Alongside every crisis comes heroes who are dedicated to bridging the gap and meeting their neighbors needs. Over the past few weeks, our members have been searching for creative ways to lend a helping hand to fellow church members and their individual communities.
Here are seven easy ways to make a difference:
1.) Prepare and deliver a meal
Nothing says 'love' quiet like a fresh cooked meal, especially one that's delivered straight to your doorstep. If you have a penchant for cooking, (and even if you don't!) now's the time to share the love. You can make a large pot of soup or a lasagna and take it to a family in need. You could even order food from a local restaurant and have it delivered if take-out is more your style.
Even though we're all keeping our distance, you can leave it on their doorstep or back porch for them to enjoy later.
2.) Send a virtual gift card
Who couldn't use another pack of toilet paper?! By sending even a $5 online gift card, this allows people to shop for their most used items. This way, they get exactly what they need without having to make a trip to the store.
3.) Write letters
If you're an avid letter writer, congrats! Now's your time to shine. If not, all this extra time is perfect to practice your penmanship. Everyone loves getting handwritten letters that provide hope and encouragement. In any crisis, the postal service will be the last service to stop so you're safe to continue sending snail mail. If you don't have colorful cards, you can always have your kids color folded pieces of paper for instant (not to mention free) art!
4.) Put together a basket!
This doesn't have to be Edible Arrangements level but it can be meaningful. If you know your neighbor likes a certain type of granola bar or hand soap, you can make a basket with all their favorite goodies.
5.) Pick up groceries
For those neighbors who are higher risk or who can't make it to the grocery store or pharmacy, offer to pick up essentials, prescriptions, or food and drop it back at their homes. You can also reach out to nursing homes and volunteer to make a run for several residents or health care providers.

6.) Remember Healthcare providers
It's easy to forget those on the front lines but let's not forget that our healthcare professionals work tirelessly every day. You can make them a meal, deliver groceries, prepare a basket full of goodies and pick-me-ups and deliver to their homes or places of work.

7.) Involve your kids
With many kids back at home for the remainder of the school year, now is a great time to involve them in meaningful projects. With any of these activities, enlist your children to help cook, prepare, write, or make and deliver treats to those who need it.
_____