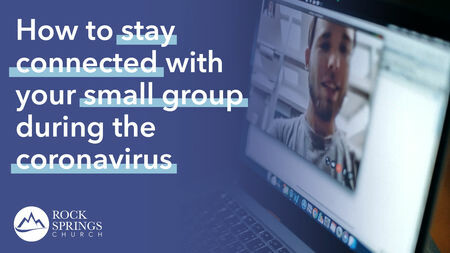 It's hard to 'do life' with your small group when 'life' currently consists of being stuck inside your house, confined to only a handful of places and limited to your immediate family. Times like these can make us feel disconnected or alone and small groups have never been more important.
If you're a small group leader, or even a weekly attendee, here are a few ways to make sure you stay plugged in with your group.
1.) Clean up your contact lists
If you don't already have cell phone numbers and emails for your small group, now is the time to update your list! While most leaders will have everyone's numbers, it can be beneficial for everyone in the group to share each other's contacts. You can do this easily by creating a Google sheet and sharing it with each member. And while you're at it, add a column for birthdays and special life events. Just because we're apart during this time doesn't mean we can't also celebrate birthdays or anniversaries from a safe distance.
2.) Have virtual bible study
No, Jesus didn't have 'zoom' meetings back then but if he lived in 2020, the sermon on the mount would probably have been live streamed! You can use any number of methods to bring your small group together to at least mirror community. It's best to do live, real-time lessons in order to keep everyone engaged. If your group maybe isn't tech savvy, you can also pre-record a video to email or include in a Facebook group.
Having a place where members can still engage is paramount during isolation so really allow conversation to flow whether on a video call or an online forum.

3.) Check-in
In addition to hosting a virtual bible study, checking in with your group is imperative to remind people that "Hey! We're still here and we're still a group!" Calls, texts, even snail mail are great ways to bring people back when we're all so spread out. You can check in with folks one on one or do a group call to brighten someone's day. You never know who's feeling the loneliness and it's our job as brothers and sisters in Christ to make every person feel welcome and wanted.

4.) Plan for the future
Nothing keeps people moving forward like talking about the future.
While we don't know how long social distancing will continue, we do know it will come to an end one day. That's why planning for future events, like a picnic or a party, sets the tone that the group will meet in person again. By about week two most people are feeling the cabin fever so allowing them to have something to look forward to can help to keep people's minds on the future.
Join Small Groups News on Facebook