Recreational Complex
Recreational complex Phase 2 coming soon!
Rock Springs Church Breaks Ground On Phase Two of Recreational Complex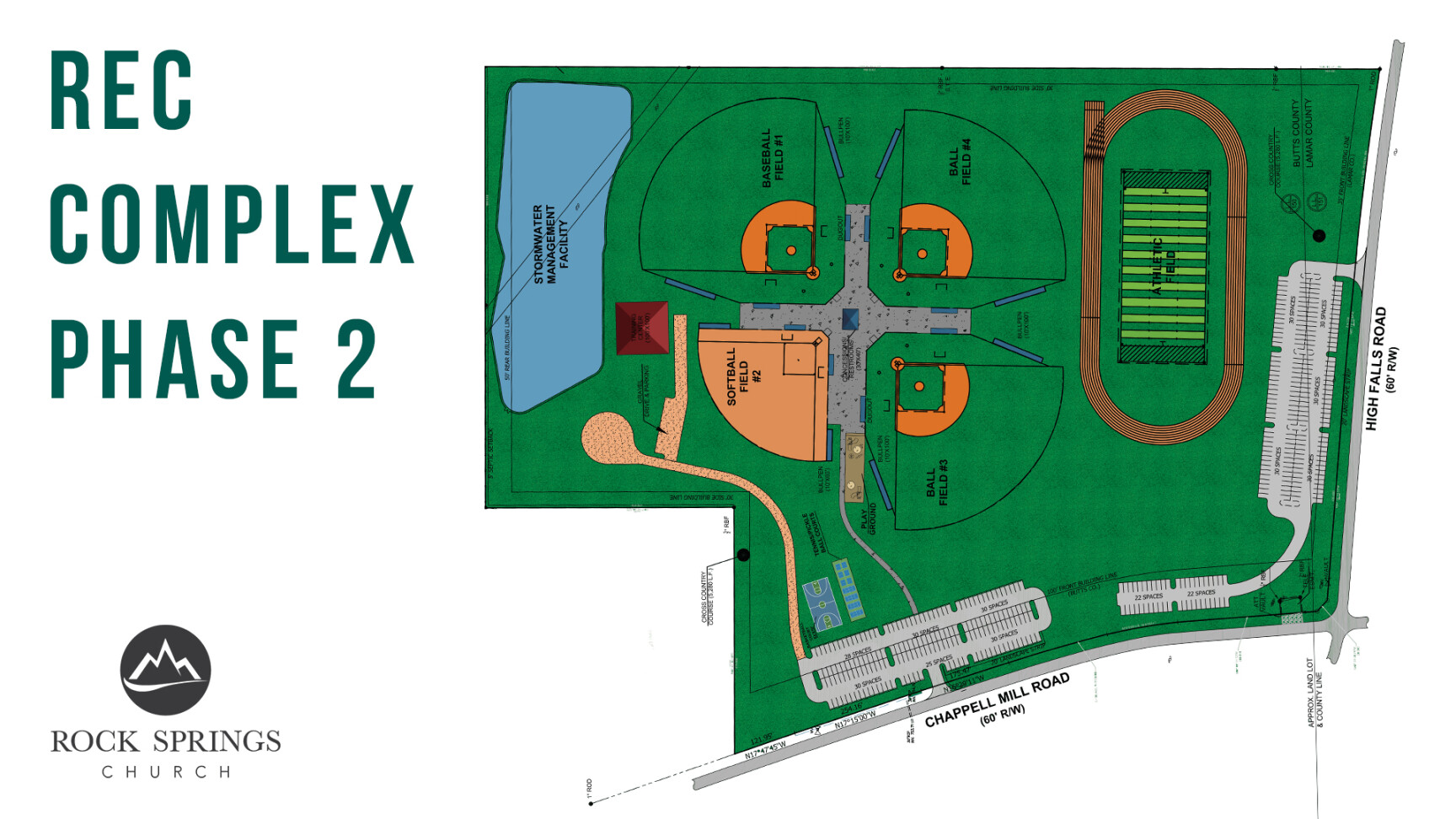 (Milner, GA) -- Rock Springs Church (RSC) held a groundbreaking ceremony on August 4, 2021, to signify the start of construction on Phase 2 of the recreational complex.
"If 3 out of every 4 people in America either watch, read about, or participate in a sporting event each day, then we have an incredible opportunity use this athletic complex as a tool to reach people for Jesus!," said Benny Tate, Senior Pastor.
Rock Springs Recreational Complex Phase 2 will span 40 acres located at 1160 Chappell Mill Road. The new complex will serve Athletic Department needs at Rock Springs Christian Academy as well as offering opportunities for community use. The initial development of Phase 2 will consist of four state-of-the-art baseball/softball fields, a training facility, a one-mile natural cross country track, and concessions.
RSC hopes such developments will support and encourage many young athletes in their God-given talents and abilities!
In addition to the initial developments, RSC is projected to add other features such as an outdoor basketball court, pickleball/tennis court, and playgrounds to be available for church, school, and community use.
Rock Springs Church is located at 219 Rock Springs Rd., Milner, GA 30257.
More on Recreational Complex Phase 1 Below
PAVILION • SPLASH PAD • FIRE PIT • WALKING TRACK • PLAYGROUND • GRILLS • crossfit rig
---
Address
1078 Chappell Mill Road Milner, GA 30257
Hours of Operation
Complex Hours:
Monday-Saturday: 6AM - 9PM
Sunday: 12PM- 9PM
Splash Pad Hours:
CLOSED FOR THE SEASON
Open Memorial Day - Labor Day
Sunday 12PM - 8PM
Monday - Saturday 10AM - 8PM
Rental Information
You can now rent the pavilion at the Recreational Complex! For questions and booking, contact Lori Holton at (770) 229-8663 or